Share your expertise through immersive courses
Craft immersive courses with revolutionary NERF technology for blue collar skills, and bring your mastery to life.
Experience next-level learning with Wefranch Courses
Empowering blue-collar workers to make immersive, multifaceted courses with cutting-edge AI technologies. Unleash unparalleled skill mastery in a fresh, innovative way. Experience learning like never before!
Versatile Multi-Angle Learning

Capture expertise from various perspectives with our multi-camera setup, making it easier for students to grasp complex techniques.

Realistic Immersive Training

Incorporate 360-degree lenses and body cams for an unparalleled learning experience that mimics real-life training.

AI-Enhanced Detail Discovery

Utilize cutting-edge AI-powered zoom technology, enabling students to dive deep into the finer details of your skills for a thorough understanding.
Immersive Video Player Features
Immersive Video Player Features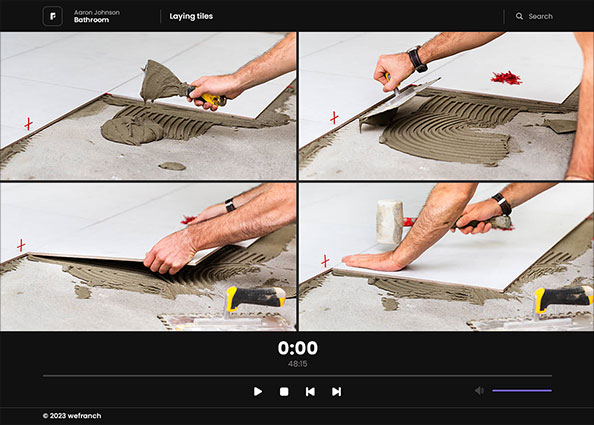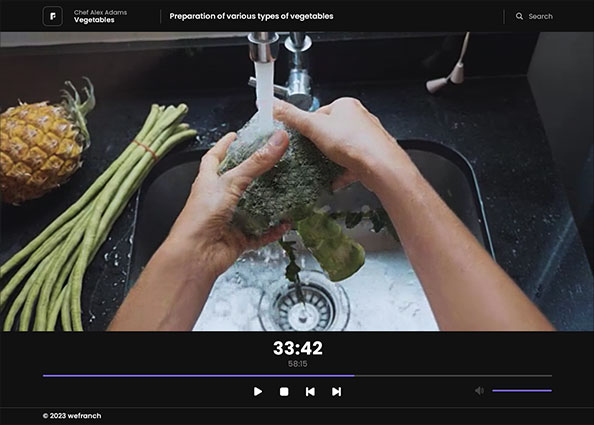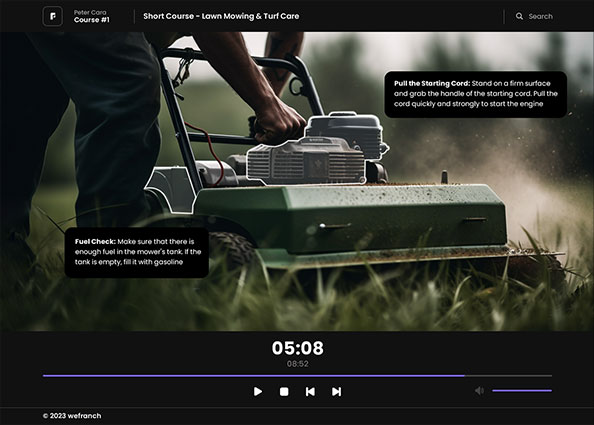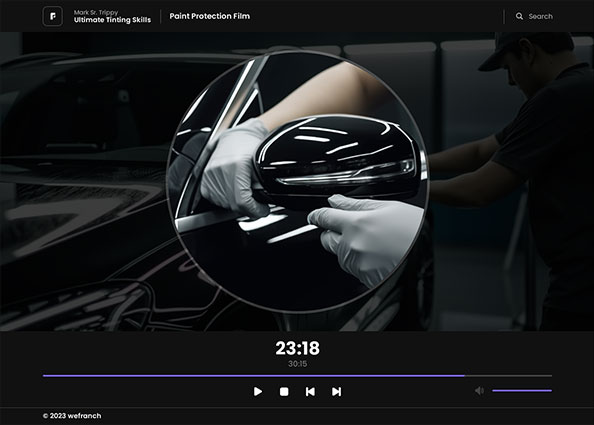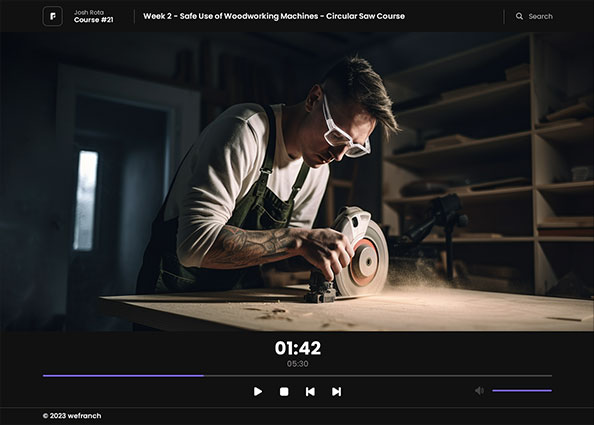 This example demonstrates how users can preview the next steps in the course, helping them avoid mistakes at the outset.
This example provides a first-person view, recorded on a chef's bodycam, demonstrating how to wash vegetables.
This example showcases the use of annotations to describe various components of a lawn mower, facilitating a better understanding of the subject.
This example provides a detailed, high-definition zoomed view of a lecturer demonstrating how to tint a car mirror using a foil.
This example shows users how to pause and pan the immersive course video to observe the lecturer from various angles.
Step Exploration

Play multiple steps of the course to see what comes next

POV

Step into the instructor's shoes with first-person view

Annotations

Gain deeper insight with helpful annotations from the experts

Zoom

Uncover hidden details using AI-powered zoom technology

Pan

Pause and explore the scene from all angles for a thorough understanding
Share what you know
Transform your knowledge into a thriving business with the best online course platform for creators everywhere
Apply to become an instructor
Request the best to teach the rest
Request a course from well- known blue-collar companies across the United States who haven't joined Wefranch Courses yet.
Featured Courses
Get a taste of the immersive learning experience offered by Wefranch Courses.
Sign up for one of our featured courses today.
FAQs
Have a question? We are here to help. Request demo anytime.
What is Wefranch Courses?

Wefranch Courses is an innovative platform designed specifically for blue-collar experts. Our platform allows you to create and share immersive, multifaceted courses using multiple cameras, including 360-degree lens and body cams. Students can engage with your content from various angles, and with AI-enhanced zoom capabilities for an unparalleled learning experience.

How do I get started with Wefranch Courses?

To get started, simply click on the 'Join the Wefranch Courses Revolution' button on our homepage. From there, you can create your account, and we'll guide you through the process of setting up your first course.

What equipment do I need to create a course?

You'll need a device to record your videos, which could range from a smartphone to a professional camera, depending on your preference. If you wish to utilize 360-degree or first-person perspectives, you'll need a 360-degree camera or a body cam respectively. Don't worry if you don't have these at the start; our platform still provides an excellent learning experience with regular video footage.

Can I try Wefranch Courses for free?

Yes, we offer a Basic Plan that allows you to try out our platform for free. This will give you a sense of the tools and features available, and you can upgrade to our Pro or Premium plans anytime for additional features and benefits.

How does Wefranch Courses ensure the quality of the courses?

We have a review process in place to ensure all courses meet our quality standards. This ensures that students have a consistently high-quality learning experience across all courses on our platform.
Unveil immersive
Wefranch Courses experience
Experience firsthand how our revolutionary platform can transform the way you share your expertise.